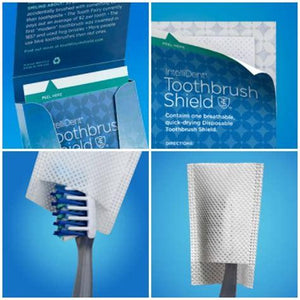 Wholesale: Purchase by the sleeve or case. 

How clean is your toothbrush?
Did you know that the simple act of flushing a toilet can contaminate a six-foot radius? That's bad news for your toothbrush. Here's the good news: the IntelliDent™ Toothbrush Shield is proven to be 99% effective against airborne and surface bacteria, significantly reducing the risk of pathogen-related illness.
Each breathable, quick-drying IntelliDent shield blocks microbes as it wicks moisture away from brush bristles, creating a cleaner, healthier environment for your toothbrush–and your mouth. Each shield is sealed in an individual wrapper to ensure a fresh, new shield every time. We recommend changing your toothbrush shield every 3-4 days for maximum protection. The 10 count package represents a one month supply – perfect for home use for the whole family as well as for vacations and business trips.
DIRECTIONS:
Simply slide the IntelliDent™ shield over the head of your toothbrush.
Each toothbrush shield provides an effective barrier against bacteria for up to 7 days; for maximum protection, replace every 3-4 days.
Offers From Our Partners:
Bulk quantity products for professional caregivers.
Click Here