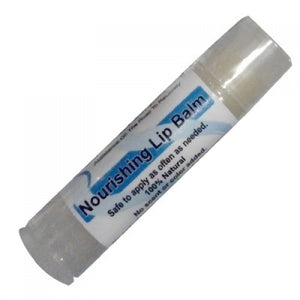 Our exclusive blend is made with Olive Oil, Coconut Oil, Beeswax, Shea Butter, Cocoa Butter (and when listed: Flavor Fragrance) 
Petroleum-free 
No animal testing
Made in Wisconsin
Beeswax:
Beeswax forms a protective barrier, while also holding-in moisture and reducing dryness.

* Doesn't clog pores
* Helps retain water, helping to keep skin hydrated
* Good source of vitamin A
* Has a natural honey fragrance
* Temporarily soothes itching
* Easily tolerated by even those with sensitive skin
Olive oil:
Olive oil contains three major antioxidants: vitamin E, polyphenols, and phytosterols. Vitamin E partly accounts for the anti-aging benefits of olive oil because it helps restore skin smoothness and protects against ultraviolet light.
Coconut oil:
It's naturally antibacterial and antifungal. Coconut oil for skin is an excellent moisturizer, it can penetrate better than other oils, and has a pleasant natural scent.
Shea butter:
The concentration of natural vitamins and fatty acids in shea butter makes it nourishing and moisturizing for skin. A 2010 study found that due to its cinnamic acid and other natural properties, shea butter was anti-inflammatory.
Cocoa butter:
Gives the lip balm a silky feel. It is great for dry, sensitive skin. Plus, it has a pleasant natural scent.
Flavor/fragrance:
phthalate free, country of origin: USA, product is in compliance with the standards of the International Fragrance Association
Directions:
Apply to lips as often as desired.
What to do if you suspect an allergen (contact-dermatitis):
If you suspect that you are allergic to an ingredient (dryness, tightness, flaking and peeling), stop using the product. Symptoms should appear within a few days of your lips making contact with it. However, it is ALSO possible to develop a sensitivity to an ingredient you've been exposed to many times before.
The only real way to identify any allergen is by elimination. You should stop using all lip products for at least a week or more, so that your lips can heal.
Offers From Our Partners:
Bulk quantity products for professional caregivers.
Click Here