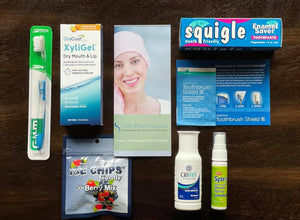 A sampling of products that are free of irritating ingredients to relieve dry mouth symptoms while protecting tender tissues and keeping teeth strong. 
Contains:
Professionally printed "Cancer Treatments & Oral Health" informational brochure with discount code for next order
4 oz. Squigle Enamel Saver (cleans and protects teeth with no irritating detergents and mild flavor)
GUM Post-Operation Extra Soft, Compact-head Toothbrush to gently clean teeth and tissue
1 IntelliDent Toothbrush Shield to protect toothbrush from germs
1.7 oz OraCoat XyliGel Dry Mouth & Lip for dry mouth
3.4 oz CloSYS Rinse
1 oz Spry Moisturizing Mouth Spray or Moisyn Mist for dry mouth
1 oz Ice Chips Xylitol Candy (Berry or Lemon)
Offers From Our Partners:
Bulk quantity products for professional caregivers.
Click Here