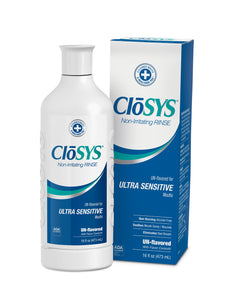 Alcohol-Free, CPC-Free, Gluten-Free, Non-burning, Non-irritating.
CloSYS Original Unflavored Rinse is simple and effective thanks to Cloralstan™, a powerful, patented ingredient that kills 99.9% of harmful bacteria in 10 seconds.
Rinsing twice a day with CloSYS Oral Health Rinse provides a cleaner, fresher mouth that combats bad breath and promotes healthy gums.
CloSYS is pH balanced and alcohol free, so it works gently but effectively.
The active difference between CloSYS and other oral rinses is its ability to eliminate the Volatile Sulfur Compounds that cause bad breath and the harmful bacteria that create them, without any burning or irritation.
CloSYS Oral Health Rinse
Kills 99.9% Of Harmful Bacteria In 10 Seconds
No Alcohol To Burn Your Mouth
CPC-Free (Cetylpyridinium Chloride) and Gluten-Free
Works Gently But Effectively
Long-Lasting Breath Protection
A Refreshingly Clean Taste
Ingredient list: water, stabilized chlorine dioxide, trisodium phosphate, citric acid.
Offers From Our Partners:
Bulk quantity products for professional caregivers.
Click Here