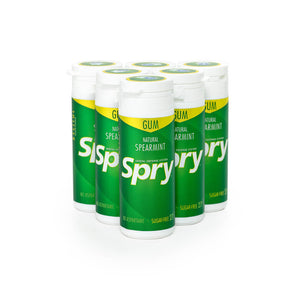 Why can't we stop smiling? Spry is why! Spry sugar-free gum contains xylitol, a natural sweetener with clinically-proven unique dental health benefits. This gum defends against bacteria that cause cavities and tooth decay while freshening your breath in a convenient way. And with our new longer-lasting flavor, you'll find it so easy to get your Spry on, you might even look forward to dental checkups!
Ingredients: 
Xylitol
Sourced from non-GMO corncobs and stalks - used as a natural sweetener, a moisturizer, and for its anti-adhesive effect on bacteria.
Gum Base
Sourced from the Jelutong tree as a natural bulking material.
Natural Flavors
A blend of plant-based flavors from non-GMO sources.
Calcium Carbonate
Sourced from a natural mineral deposit for use as a coloring agent, a pH balancer, and an aid in the remineralization of enamel.
Gum Arabic
Sourced from the Acacia Senegal tree as a natural bonding material.
Carnauba Wax
Sourced from the Copernicia Prunifera, or carnauba palm, tree as a natural coating.
Stevia
Sourced from Stevia Rebaudiana leaves for use as an herbal extract.
Directions:
Numerous clinical studies have shown that in order to maximize the oral health benefits of xylitol, you must continue exposing your teeth and oral tissues throughout the day. The Spry Dental Defense System offers a complete assortment of natural oral care products with xylitol to make this exposure as convenient as possible. We recommend following our SPRY FOR 5 program.

For best results: chew Spry xylitol gum, or a combination of other xylitol products in the Spry Dental Defense product line, at least five times throughout the day.
Offers From Our Partners:
Bulk quantity products for professional caregivers.
Click Here