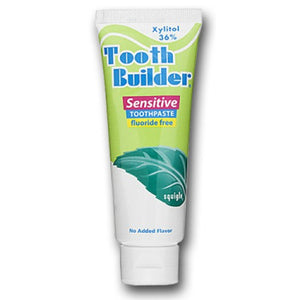 Help avoid sensitive teeth with Tooth Builder® Toothpaste. With 36% Xylitol, it fights tooth decay in 5 ways while soothing and protecting dry mouths. The color and flavor-free formula is wonderful for those with sensitive stomachs. It is the world's first hypoallergenic toothpaste and is free of gluten and soy.
no animal testing
no harsh abrasives
no irritating detergents
no artificial preservatives
no added flavor
no artificial sweeteners
no artificial colors
no Chinese ingredients
Toothbuilder toothpaste helps avoid:
Sensitive Teeth
Bad Breath
Mouth Sores
Gum Disease
Perioral Dermaitis
Chapped Lips
Plaque, Decay and Stain
Ingredients:
36% Xylitol, purified water, calcite, glycerin, cellulose gum, Methocel®, calcium, propionate, lactoferrin.
"Copyright 2010 SQUIGLE, inc. All rights reserved. May not be duplicated or reproduced without the express written consent of SQUIGLE, inc. SQUIGLE, ENAMEL SAVER, MOUTH FRIENDLY and TOOTH BUILDER are trademarks of SQUIGLE, inc."
Offers From Our Partners:
Bulk quantity products for professional caregivers.
Click Here