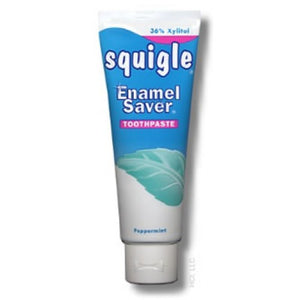 Squigle Enamel Saver Toothpaste 4.0oz
Squigle® Enamel Saver Toothpaste soothes and protects dry mouths, whitens gently without harsh abrasives and is clinically proven to prevent plaque, cavities, bad breath and mouth sores.  It is free of irritating ingredients such as SLS (sodium lauryl sulfate.)  Squigle® Enamel Saver Toothpaste is Vegan and free of Gluten, dairy and soy.  Made in the USA from all American ingredients and packaging.
SQUIGLE Toothpaste has
no animal products
no animal testing
no harsh abrasives
no irritating detergents
no artificial preservatives
no sharp flavors
no artificial sweeteners
no artificial colors
no Chinese ingredients
Squigle Enamel Saver Toothpaste with fluoride contains 36% US Xylitol from birch trees -- more than any other toothpaste. It is extremely effective in fighting:
Canker Sores
Dry Mouth problems (gum disease and cavities)
Gum Disease
Mouth Ulcers
Oral Mucositis (mouth ulcers from cancer treatments)
Perioral Dermatitis
Plaque and Cavities
Ingredients:
36% Xylitol, purified water, silica, glycerin, poloxamer, cellulose gum, peppermint flavor, anatase, Methocel®,  glycyrrhizin, sodium hydroxide.  Active ingredient 0.24% Sodium Fluoride.
"Copyright 2010 SQUIGLE, inc.  All rights reserved.  May not be duplicated or reproduced without the express written consent of SQUIGLE, inc.  SQUIGLE,  ENAMEL SAVER, MOUTH FRIENDLY and TOOTH BUILDER are trademarks of SQUIGLE, inc."
Offers From Our Partners:
Bulk quantity products for professional caregivers.
Click Here