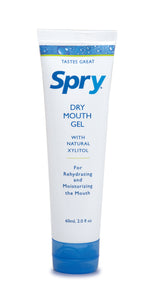 Take back your oral health with Spry Dry Mouth Gel, a simple natural formula featuring xylitol, a natural sweetener that stimulates salivation. You'll also get calcium to help strengthen teeth and Aloe Vera to soothe irritated oral tissues.
Features and Benefits:

1. Natural spearmint flavor provides a refreshing splash of flavor and freshens breath.
2. Sweetened with 100% xylitol to promote the natural production of saliva and hydrate dry tissues.
3. 100% drug-free remedy is safe for all ages and can be used as often as needed.
4. Includes 3.5oz and 1.0oz bottle so you can always have relief wherever you are.
5. Non-GMO ingredients so you can feel good about what you put in your body.
Spry Dry Mouth Gel gently rehydrates and moisturizes dry oral tissues through its simple yet innovative, natural formula. It features xylitol, a natural ingredient that improves oral health and also moisturizes the mouth by initiating salivation through its cooling effect. Because it's a gel, the effects last long, so you can have relief for multiple hours. But the best part is that Spry Dry Mouth Gel tastes great and doesn't irritate. Many other products on the market taste horrible or cause problems for some dry mouth sufferers due to the harsh flavor. Xylitol is a natural sweetener, making the gel sweet but not overwhelming. The gel also features calcium to help strengthen teeth, and Aloe Vera to soothe irritated oral tissues. Spry Dry Mouth Gel gives fast relief when you need it most.
Directions:

Place a half teaspoonful of Spry Dry Mouth Gel in the mouth. Swish and hold for thirty seconds before swallowing.
Ingredients:
Purified Water, Xylitol, Vegetable Glycerin, Calcium Glycerophosphate, Cellulose Gum, Grapefruit Seed Extract, Aloe Vera
Offers From Our Partners:
Bulk quantity products for professional caregivers.
Click Here