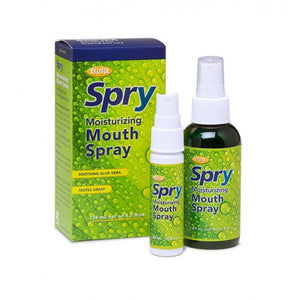 Spry® Moisturizing Mouth Spray Dual Pack
Each box contains 2 bottles (1 x 3.5 oz. and 1 x 1 oz.)
Rain Moisturizing Mouth Spray is part of the Spry Dental Defense System of products containing xylitol, a natural sweetener that provides immediate moisturizing relief. Moisturizing Mouth Spray was developed to provide a rich supply of xylitol in a pleasant and refreshing formula. Xylitol's moisturizing effect soothes irritated mouth tissues and encourages normal salivation. Additionally, xylitol helps produce a tooth-friendly environment that balances out the oral health concerns that occur when an insufficient amount of saliva is produced.
Ingredients:
Purified water, Xylitol, Aloe Vera Concentrate, Vegetable Glycerin, Natural Spearmint Flavoring, Calcium Glycerophosphate, Cellulose Gum and Grapefruit Seed Extract as a preservative.
Directions: 
Spray 2 to 4 times in mouth. Briefly hold in mouth before swallowing. Safe to use as often as needed, even with other medications.
Offers From Our Partners:
Bulk quantity products for professional caregivers.
Click Here