Take Control Over Your Oral Health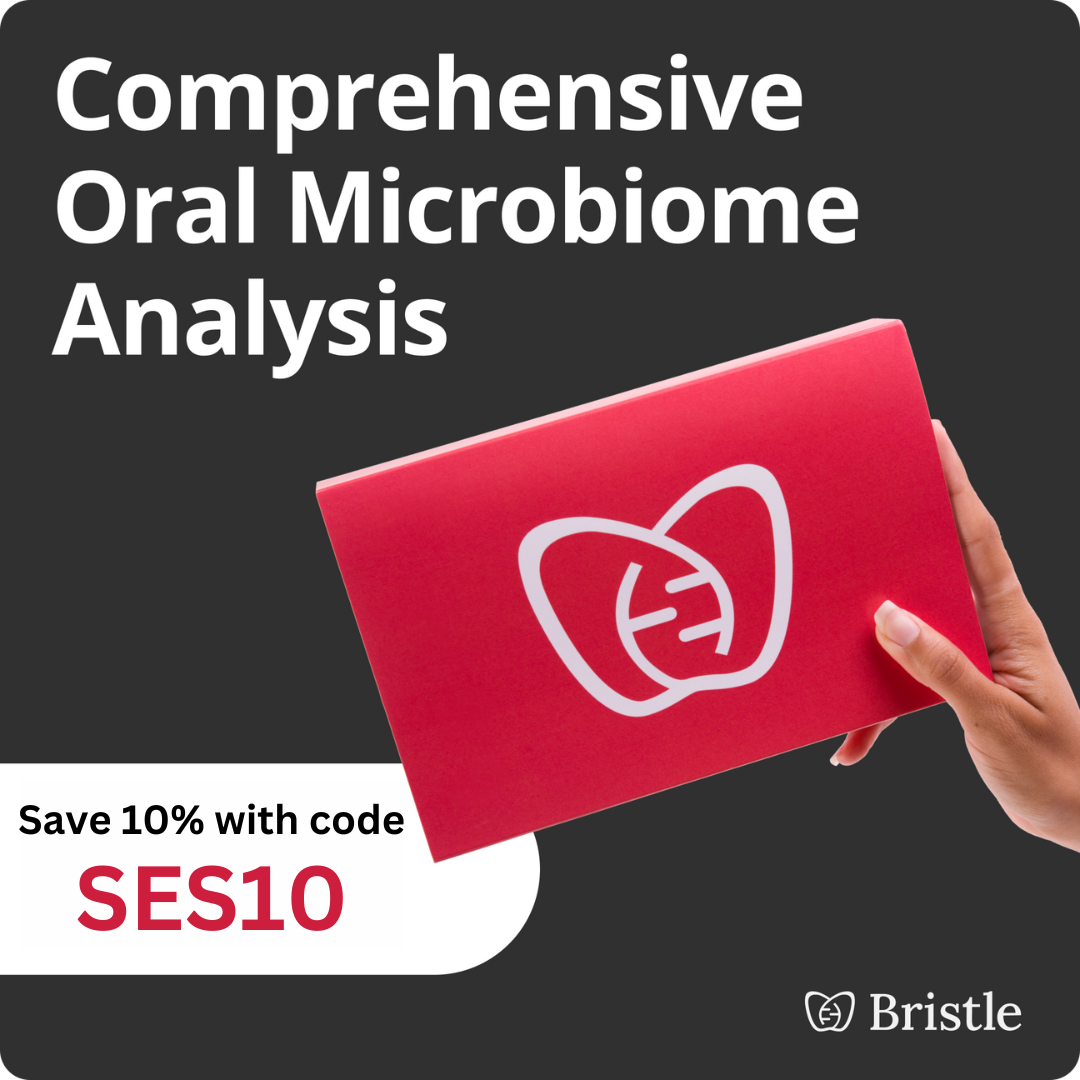 Bristle helps people measure, understand and improve their oral health by analyzing the oral microbiome. 
Bristle's at-home oral microbiome test measures oral health status, including risk factors for cavities, gum disease, bad breath, and more. Bristle then provides personalized diet, lifestyle, and product recommendations to improve health and help lower risk for disease. 
What is your oral microbiome? 
The oral microbiome is the collection of bacteria, fungi, and viruses living in one's mouth. On average, an individual has 100+ unique species of beneficial and harmful oral bacteria. Oral infections like cavities and gum disease are caused by high levels of pathogenic oral bacteria. 
Oral health impacts your overall health
The mouth is the gateway to the body. An unbalanced oral microbiome and high levels  of pathogenic bacteria have been associated with increased risk for Alzheimer's,  diabetes, cardiovascular disease, adverse pregnancy outcomes, and other chronic  conditions. 
By understanding your oral microbiome, preventive measures can be taken to address the root causes of oral and systemic diseases and achieve whole-body health. 
Address root cause of disease with Bristle's at-home oral microbiome testing 
Bristle's test is the first to report on any bacteria detected in your saliva (average range is 100 - 200 unique species), using metagenomic sequencing. Bristle empowers you to: 
Understand your baseline oral health status with user-friendly results including  risk scores for cavities, gum disease, and halitosis & a breakdown of all bacterial species detected 
Optimize your oral microbiome with personalized diet, lifestyle, hygiene, and oral  care product recommendations 
Monitor progress over time with recurrent testing to measure how changes &  treatments impact your risk for disease 
Achieve overall wellness by addressing the root cause of disease and focusing on  prevention 
How it works 
Purchase online and receive a test kit at home 
Collect a saliva sample in under 5 minutes and send it back using the included prepaid return envelope 
Access your results online in 2 - 3 weeks  
✨
To get started, visit Bristle using the
link here
and use discount code
SES10
at checkout for 10% off your Bristle testing!
Offers From Our Partners: