Support for People with Oral and Head and Neck Cancer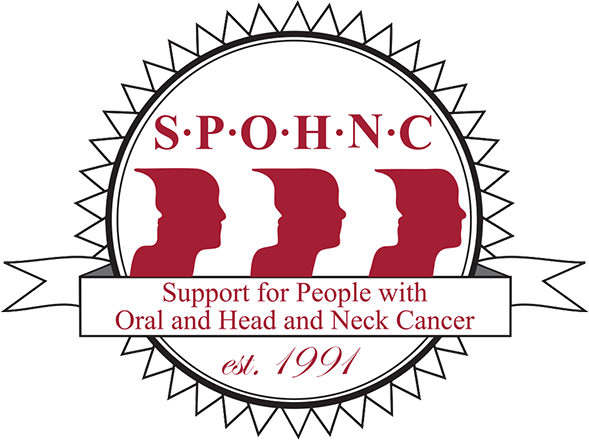 The month of April is Oral and Head and Neck Cancer Awareness Month.  Each article posted during the month of April has been dedicated to this subject.  We would like to thank Support for People with Oral and Head and Neck Cancer (SPOHNC) for contributing the following information about their organization and for helping so many people who are dealing with issues related to these types of cancer.
Support for People with Oral and Head and Neck Cancer (SPOHNC) is a national, patient-directed, not-for-profit organization founded in 1991 by oral cancer survivor, Nancy Leupold. Back then there were very few resources available for this patient population. She started the first support group for oral and head and neck cancer patients with 9 survivors, at Long Island Jewish Hospital in New Hyde Park, NY.
SPOHNC seeks to address the medical, physical, emotional and practical needs of oral and head and neck cancer patients through its Outreach Program. SPOHNC's Outreach Program consists of local Chapter Development and the National Survivor Volunteer Network. There are currently 127 chapters of SPOHNC located throughout the United States. Most meet on a monthly basis to share information and offer support and encouragement to one another. SPOHNC's NSVN is a network of close to 200 volunteers communicating on a one-to-one basis with newly diagnosed patients, recovering patients and caregivers. Patients may phone or email SPOHNC to be matched with a volunteer who can provide information, support and encouragement to those in need.
SPOHNC also has a monthly newsletter, which features original articles by well known Head and Neck cancer physicians, poignant and encouraging survivor sharing stories, Head and Neck cancer news, and human-interest stories. In addition to the newsletter SPOHNC also has two publications. These publications include Eat Well – Stay Nourished a Recipe and Resource Guide for Coping with Eating Challenges (Volume two is presently in production), and the second edition of Meeting The Challenges Of Oral And Head And Neck Cancer: A Guide For Survivors And Caregivers. Each of these publications helps to inform, encourage and support the many challenges associated with this disease.
SPOHNC's website at www.spohnc.org includes additional information and resources helpful to these patients and their families. SPOHNC also has a presence on Facebook where patients can engage in conversation about their experiences and also find out about SPOHNC happenings and events.
SPOHNC, a patient directed self-help organization, is dedicated to raising awareness and meeting the needs of oral and head and neck cancer patients. It is SPOHNC's privilege to be able to offer the many resources and programs to those who suffer from this disease, which can be very debilitating.
Offers From Our Partners: