IntelliDent™ Toothbrush Shields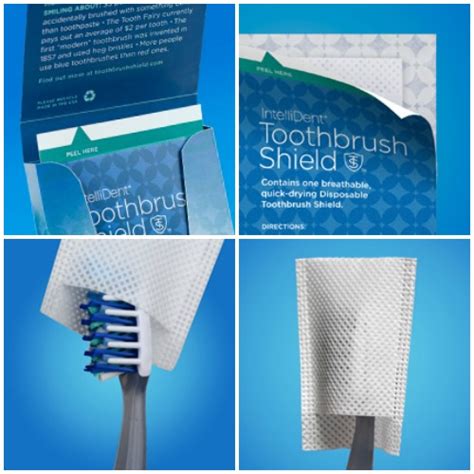 We are happy to announce that IntelliDent™ Toothbrush Shields are now available through Side Effect Support!
How Clean is Your Toothbrush?
Studies show that an exposed toothbrush is subjected to multiple airborne and surface microbes. Your toothbrush is at risk for contamination if stored in a shared holder or cup with other brushes, enclosed in a plastic cap that can breed germs, or stored in close proximity to a toilet that can spread E. coli and other harmful bacteria.
The IntelliDent Toothbrush Shield...
- Is a breathable, quick drying shield that acts like a surgical mask for your toothbrush.
- Laboratory tested 99.9% effective barrier against airborne and surface bacteria.
- Replaces plastic caps and holders that trap and breed bacteria.
- Eliminates cross contamination of germs between brushes stored in shared cups.
- Ideal for travel, home, work and everywhere in between.
- Disposable and Effective up to 7 days.
Preventing bacterial growth on your toothbrush is especially important for those who have a compromised immune system due to cancer treatments.
An individually wrapped shield has also been added to our Oral Care Kit.
Learn more why you need IntelliDent™ Toothbrush Shields by reading,
How gross is your toothbrush? 5 toothbrush hygiene mistakes you're probably making
Offers From Our Partners: