emmi®-dent oral waver™ ~ Touchless pain-free oral care, even for the most sensitive teeth and gums.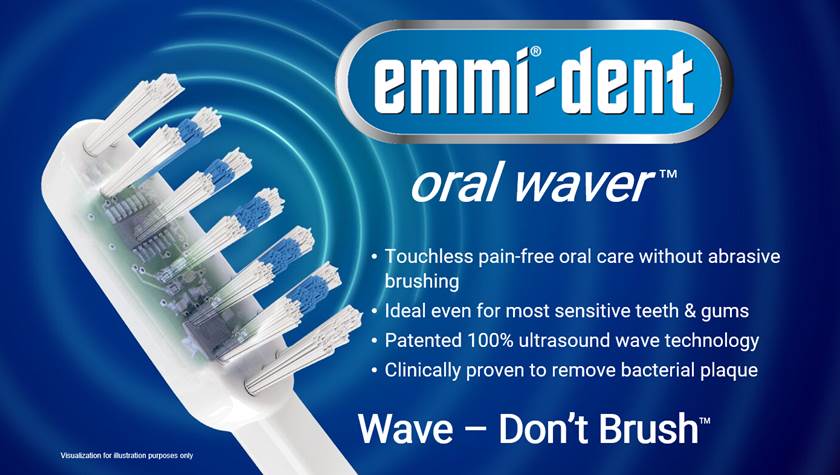 Maintaining good oral care habits during cancer treatments can be a challenge.
Medications and procedures used to treat a variety of cancers can cause mouth problems, including tender oral tissue and open sores called oral mucositis. 
Mouth problems may be a temporary concern for some, while others may struggle with limitations long after cancer treatments are complete.
Avoiding brushing encourages bacterial growth and inflammation, which makes the problems worse.
Bristles of conventional manual or electric toothbrushes cannot reach below gum-line/inside gum pockets and oral crevices, where pathogenic plaque accumulates.
Accelerated build-up of harmful bacterial plaque triggers a delayed healing process, increasing risks for mouth sores and potentially dangerous infections.
emmi®-dent oral waver™ 100% Ultrasound provides:
Touchless, zero abrasion (RDA=0) pain free micro-cleaning without brushing
Removes harmful bacteria with no risk to irritate inflamed gums or open wounds.
Nano-cleaning bubbles reach deep inside gum pockets/below the gum-line and in-between tiny crevices – eliminating harmful bacteria where conventional bristles cannot reach.
Restores the natural healthy balance in the mouth, leading to cleaner teeth and healthier gums.
For more information visit www.emmident-ultrasound.com

Receive a special introductory offer of an emmi®-dent oral waver™ Starter Kit
(contains: Ultrasound Device, Bristle-head, Charging dock, Ultrasound Toothpaste) at only 165$ (25% Discount vs Retail MSRP), with free shipping!
Click the image below 
Create an account
Enter "JillSpecial2021" as the emmi-dent Access Code to save 25%
Choose "I am a patient"
Click "Sign Up"
 Check out the studies:
Offers From Our Partners: