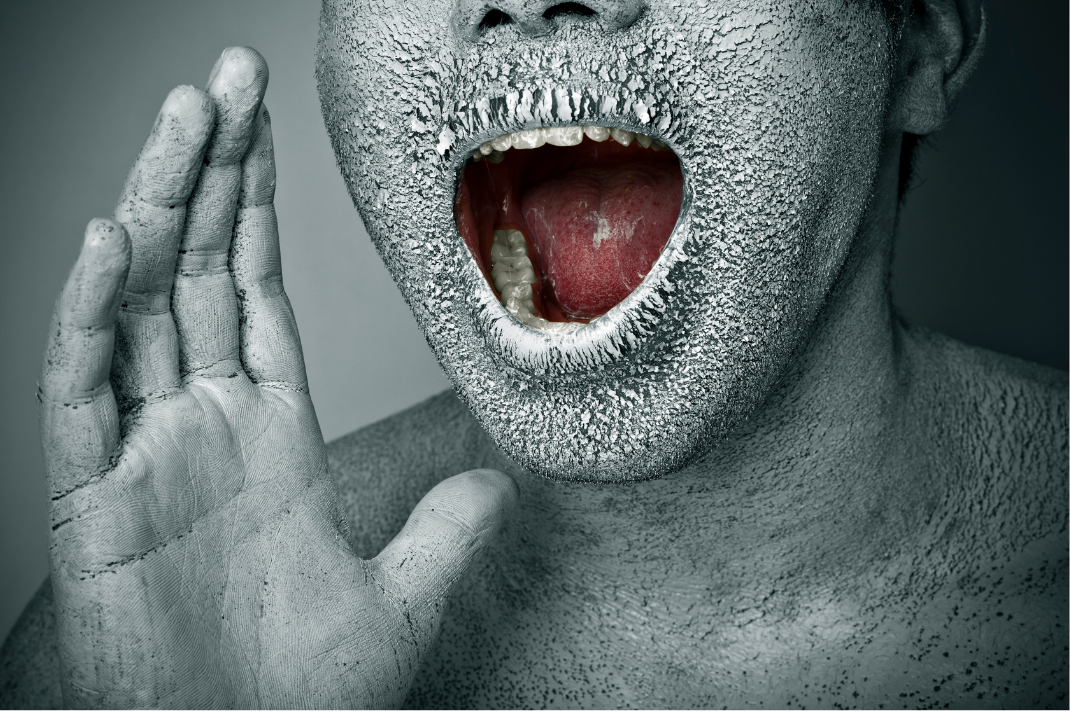 Xerostomia is a common symptom associated with cancer treatments. The severity can range from mild discomfort to life altering by affecting the ability to sleep, eat, speak and swallow.  Those suffering from xerostomia may also complain of an altered sense of taste, sore throat, cracked lips, and halitosis.  A decreased salivary flow causes an altered pH in the oral cavity, making these patients more susceptible to caries, periodontal disease, mucosal injury and infections such as candidiasis.
According to the Oral Cancer Foundation, "Xerostomia is the most common toxicity associated with standard fractionated radiation therapy to the head and neck."  Xerostomia may be a temporary condition associated with inflammation within the field of radiation, or it can be a permanent result of nerve damage and fibrosis of the salivary glands.  Those who have received radiation therapy to the head and neck region can face a lifetime struggle with oral disease and infection.  This is a significant concern due to the risks of Osteoradionecrosis.
Those who have received chemotherapy may also experience xerostomia.  These cases are normally temporary but can still be a serious health concern to those with a compromised immune system.  Even temporary problems with xerostomia can cause long-term oral complications as well as other negative physical, emotional and social effects.
Graft-versus-host disease (GVHD) is another cancer-related issue that can result in severe xerostomia by transplanted T-cells infiltrating and damaging the host's salivary glands.  GVHD is the most common late complication of allogeneic stem transplantation.  There are many possible oral complications associated with GVHD, but many can be exasperated by untreated xerostomia.
The American Academy of Oral Medicine (AAOM) states that effectively treating xerostomia includes improving salivary function, easing oral discomfort, improving one's ability to eat, drink and speak and preventing oral diseases such as caries and candidiasis.
Amifostine (Brand name Ethyol®) is a preventive IV treatment that may be used in conjunction with certain types of cancer treatments (primarily radiation therapy to the head & neck region) to protect salivary function. Other prescription medications are available when OTC products and lifestyle changes do not provide acceptable relief.  These include SalivaMAX, NeutraSal® Pilocarpine (Salagen,) Cevimeline (Evoxac,).  Please be aware of any contraindications, side effects and costs associated with each of these medications before prescribing and only do so with the oncologist's approval.
Some studies have shown increased salivary function with acupuncture http://www.oncologynurseadvisor.com/acupuncture-relieves-dry-mouth-caused-by-radiotherapy-for-head-and-neck-cancers/article/265798/#
Patients with xerostomia should be closely monitored for oral diseases.  Besides the use of OTC oral moisturizers, the dental team may consider additional measures to prevent caries, such as professionally applied 5% Sodium Fluoride Varnish treatments or home use of a 5000 ppm 1.1% NaF paste or gel, custom fluoride trays, or MI Paste/MI Paste Plus™.  Each practitioner should determine the appropriate treatments on an individual basis.
See our Patient & Caregiver Post for several lifestyle choices to combat xerostomia.  Our Products section provides OTC options to help combat the effects of reduced salivary function.
More information can be found at http://www.dentistryiq.com/articles/wdj/2007/06/xerostomia-the-invisible-oral-health-condition.html
Please share our website with your professional colleagues and patients.  Encourage them to sign up for updates on articles regarding cancer and oral health. Visit our Facebook page for more helpful information.
Visit our Oral Moisturizer section for affordable over-the-counter dry mouth relief HERE 
Offers From Our Partners: