Study Explores Jaw Problem Linked to Zoledronic Acid, Finds Risk Factors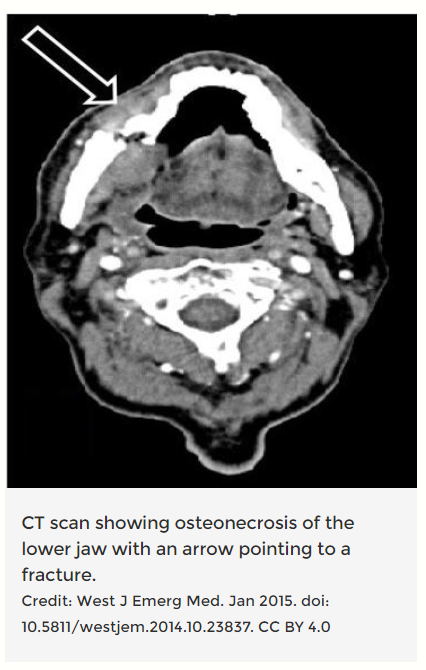 Study Explores Jaw Problem Linked to Zoledronic Acid, Finds Risk Factors
When cancer spreads to the bone, it can cause pain, fractures, and other problems. Clinical guidelines recommend that patients whose cancer has spread to their bones receive regular infusions of a bone-modifying drug, such as zoledronic acid (Zometa), to help manage these complications.

But such drugs can have harmful side effects, including osteonecrosis of the jaw, a rare but potentially debilitating condition in which bone tissue in the jaw is no longer covered by the gums and starts to die.
"This is one of the first studies to systematically evaluate dental health and the risk for developing osteonecrosis of the jaw with zoledronic acid," said Lori Minasian, M.D., deputy director of NCI's Division of Cancer Prevention, who helped facilitate the study but was not a study investigator. "It goes a long way in helping us understand the harms of zoledronic acid and related drugs and will help us use the drugs better" when treating people with cancer, Dr. Minasian said.
"If there's a message to cancer patients, it's to take care of your teeth—brush your teeth, go to your dentist, and make sure that your oral health is in good shape," she said.
Read the full report by clicking on the photo below:
Offers From Our Partners: