Silver Diamine Fluoride for Oncology Patients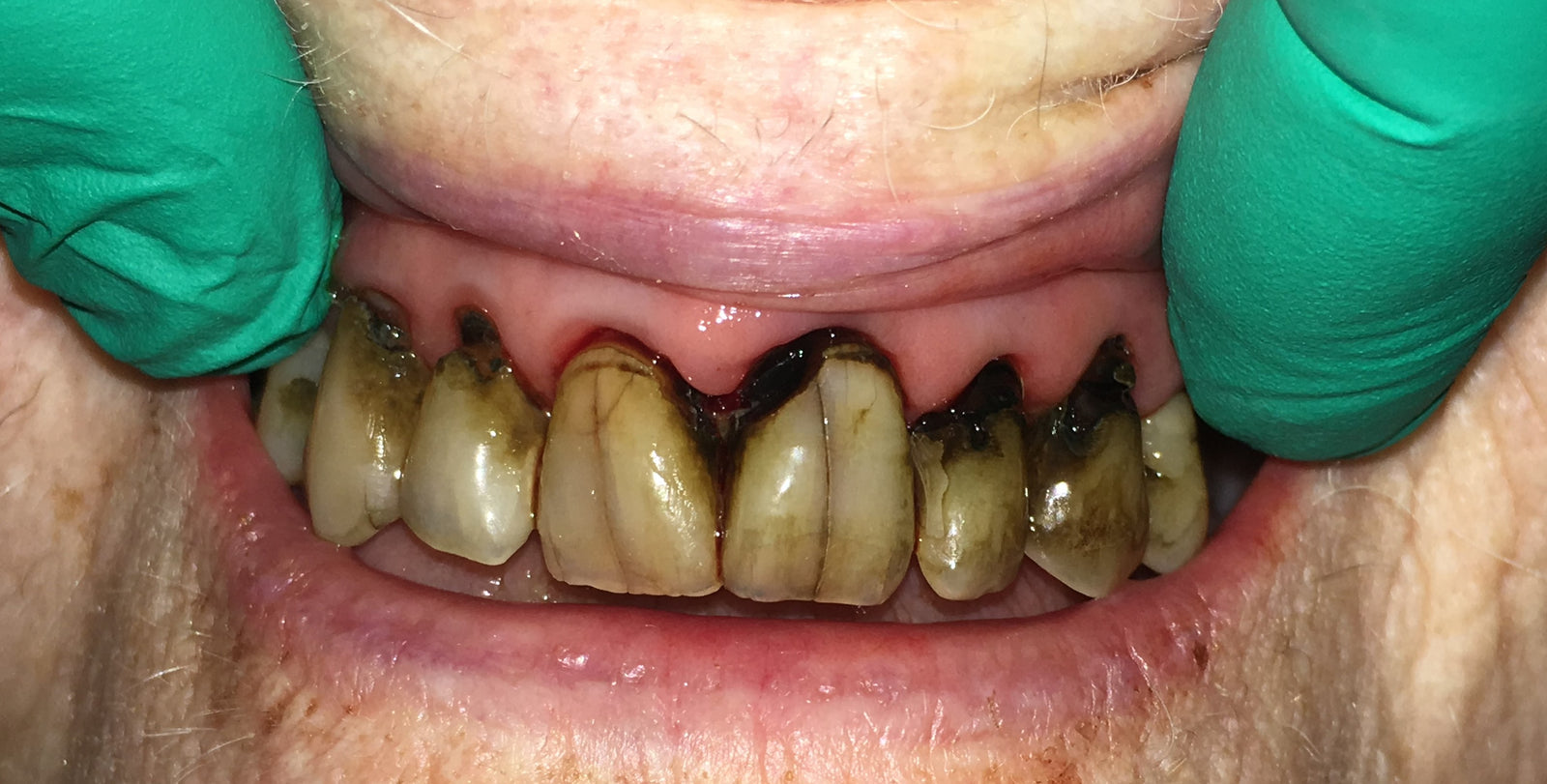 By Kyle Isaacs, RDHEP, BHS
Wouldn't it be great if no one had to experience cancer and the emotional, physical, and financial turmoil that can negatively affect a person's quality of life?  Sadly, there will continue to be cancer diagnoses and subsequent treatments that can result in debilitating oral side effects. Because of this, it is important that health care providers have a good knowledge base about the possible oral manifestations and collaborate for prevention and alleviation of poor outcomes.  Oral complications from cancer therapies is more common than most people realize and is not limited to treatments that target head and neck cancers, but in fact, about 40 percent of patients who receive chemotherapy, nearly 80 percent who receive stem cell transplants, and almost all who receive head and neck radiation experience oral complications.2  These could include, but are not limited to oral mucositis, dry mouth, caries, osteoradionecrosis, periodontal disease, infection, caries, nerve damage, increased bleeding, dry mouth, a change in taste, inflammation, and pain.6
Some of the side effects will abate, but for many patients, there can be long lasting poor oral outcomes, poor nutrition, and dehydration.   Applying silver diamine fluoride (SDF) before and during active cancer therapies is a new concept and a viable treatment option for these patients.
Since many people experience cancer therapy oral side effects, it is recommended that patients see their dentist at least a month before undergoing any cancer treatment to address and take care of all oral infections and to complete any invasive treatment at least 14 days before head/neck radiation therapy starts and 7-10 days before any myelosuppressive chemotherapy begins.5 Even with the best of intentions, this does not always happen and typically any dental treatment will need to wait until after cancer treatments are completed. 
Oral side effects from cancer therapies can be painful (especially mucositis) and affect a person's ability to perform oral hygiene, eat, sleep, drink, talk, and swallow, affecting overall nutrition and health as well as their quality of life.  Oral complications increase the risk of treatment delays, may affect dosages of the therapies, and can increase the need to stop altogether influencing treatment outcomes. Salivary glands can be affected as well, resulting in a decrease of saliva, which increases the risk for tooth decay and gum disease, both oral infections that an oncology patient does not need.   Add to all of that, these patients need good nutrition and often cannot tolerate eating so they often will drink a "health shake".  Many of these "health shakes" have a high sugar content and combined with poor oral hygiene and a reduced salivary flow, increase the risk for caries greatly.   They will likely be doing very little if any chewing and subsequently will build up more plaque biofilm than they normally would; combined with the sugar, lack of  saliva, poor OH, this is a recipe for disaster in the mouth. There will likely be a greater number of carious lesions as well as periodontal disease; both are infections that when left untreated, increase bacteria in the mouth and the possibility of systemic infection.
Because cancer patients do not always get the dental care they need before initiating cancer therapies and because oral side effects are common, a non-invasive treatment option that can offer a stop gap, prevent caries, is inexpensive, and can help with sensitivity would be a great option if it became a standard part of a cancer patient's treatment when needed.  The dental profession now has access to the use of SDF, a minimally invasive treatment that can be applied in a matter of minutes with no anesthetic, no drilling, and no disruption of oral tissues.  It has been used for children, the elderly, for patients unable to receive traditional dental restorative services, special needs populations, and as an interim treatment solution, with very few contraindications. Because it is non-invasive, after consulting with the patient's oncologist, it is likely that SDF could be an option that can be used while a patient is still undergoing cancer therapies. SDF offers the ability to help relieve pain, stress, and as an interim treatment to gain some time until dental restorative treatment can be done.
So, what is SDF?  It is a clear liquid composed of 25% silver (an antimicrobial), 5% fluoride (remineralizes the tooth), 8% ammonia (stabilizes the solution), and water. Even though it is clear, it is now available with a blue tint which makes it easier to see when applying.  One drop can treat 5-6 teeth depending on the size of the lesion; a little goes a long way!  Silver has been used in a multitude of ways for thousands of years because of its broad spectrum of antibacterial activity, lack of bacterial resistance, and low toxicity.3 The silver directly kills cariogenic bacteria by interrupting DNA replication of the bacteria and the fluoride remineralizes or hardens the carious lesion resulting in a decrease in the depth of the lesion. Not only that, but the silver has the ability to have an effect on bacteria in other areas of the mouth as the bacteria that has been killed by the silver is added to live bacteria; it reactivates the silver and kills the live bacteria, and is called the "zombie effect".4 SDF (Advantage Arrest has a pH of 10) and is about $0.72 per drop is contraindicated for people with a silver or heavy metal allergy or on teeth that have pulpitis (decay in the nerve) and should not be used on areas of desquamative gingivitis. 
It has been used in Japan since 1970 and some other countries since 1980 with no serious side effects. It is applied on teeth to help prevent caries, decrease plaque biofilm, help with tooth sensitivity, and arrest caries at little cost, time, and with few supplies needed.  It has a caries arrest rate of about 80% and a great safety record with the only real side effects being that the decayed area will turn black.1 There have also been very few reports of gingival irritation.1 It can also stain skin, mucosa, and the gingiva, but these temporary "tattoos" will disappear anywhere from a few days to a couple of weeks.  When applying there can be a transient burning sensation on the gingiva and a strong metallic taste that dissipates quickly.
Wouldn't it be great to have a registered dental hygienist (RDH) in each cancer treatment facility available to screen patients for possible problems such as mucositis and possible carious lesions when they come in for their treatments? At these visits, upon consultation with the oncologist to rule out any contraindications and after showing color photos of SDF treatment, and signing a consent form, the RDH could apply the SDF.  Using SDF for cancer patients during active cancer therapies is an innovative treatment, as most of these patients are not seen by dental professionals during their cancer therapies and to date there are no known studies that have been done on SDF for this group during active cancer therapy.  If a patient is receiving head and neck radiation, it might be recommended they wear a protective guard during the sessions if they have amalgam fillings in their mouth. This may be true of SDF since it has silver as one of the ingredients, but at this point I do not know and so to be safe always consult with the oncologist.
It is important to check with your board of dentistry ahead of time regarding scope of practice for applying SDF by dental hygienists.  The application is quick, easy, and non-invasive.   But care must be taken if the patient is already suffering with mucositis and the practitioner must not allow the SDF to touch the affected surfaces. Great care should be taken when working with it as it can easily spread if accidentally bumped during application or handling.  Patients and practitioners should always have eye protection as well as a patient bib to protect clothing from permanent staining and either a patient bib or plastic lined tray to prevent other areas from permanent stains.  If there is mucositis, you can cover the sore with Vaseline and gauze to help prevent the SDF from getting on the lesion; if it does get on the lesion, it will likely result in a burning sensation and be uncomfortable. Any plaque or food debris can be removed with a toothbrush or gauze, then isolate with cotton rolls and dry with either air or gauze.  The area to be treated will be dried with either air or gauze. Remember that one drop can treat about 5 teeth, so you need very little to do the job. A drop of SDF is dispensed into a plastic dappen dish, a microbrush is dipped into the liquid and then tapped on the side of the dappen dish to get rid of any extra. Then the SDF will be applied to the area on the area to be treated. Best if allowed to sit 1-3 minutes, then the area can be blotted to remove any extra SDF or fluoride varnish can be applied on top if the patient can tolerate it.  Always check with the oncologist before any treatment such as using fluoride varnish. I love using Elevate Oral Care's Advantage Arrest SDF and their fluoriMax varnish.  FluoriMax is only 2.5% sodium fluoride vs. the 5% of most other varnishes on the market and is not made from tree sap.   Here is a link from Elevate Oral Care for more information about this product. http://www.elevateoralcare.com/site/images/FMVA020819.pdf.  For videos and updated research on SDF, reading the Silver Bulletin that Elevate Oral Care publishes can be valuable. http://www.elevateoralcare.com/Landing-Pages/silverbulletinv9.
SDF is not a cure for dental caries but can offer us an option to possibly help cancer patients while they are actively going through cancer therapies when they otherwise could not receive dental care. It is also a great tool when appropriate during the COVID-19 pandemic because it can be applied without creating any aerosols.  We are at a crossroads with dental and medical interprofessional collaboration and need to move forward in order to best take care of our patients to allow for the best health outcomes possible and this includes having a dental hygienist in every medical facility.  Utilizing SDF in non-traditional health care facilities can be a method to utilize teledentistry, increasing access to care for patients going through active cancer therapies.  We know that cancer is not going away anytime soon, and many patients suffer from oral side effects from treatment. We can and need to start thinking differently about dental care and the cancer patient; we do have more options in our toolbox with the addition of SDF.
References
Crystal, Y. O., & Niederman, R. (2019). Evidence-Based Dentistry Update on Silver Diamine Fluoride.

Dental clinics of North America

,

63

(1), 45–68.

https://doi.org/10.1016/j.cden.2018.08.011

.

https://www.ncbi.nlm.nih.gov/pmc/articles/PMC6500430/

Dental and Oral Complications of Cancer Treatment Facts.

Leukemia and Lymphoma Society.

https://www.lls.org/sites/default/files/National/USA/Pdf/Publications/FS29_Dental_and_Oral_Fact_Sheet_FINAL_9.2016.pdf

Gao, S. S., Zhao, I. S., Duffin, S., Duangthip, D., Lo, E., & Chu, C. H. (2018). Revitalising Silver Nitrate for Caries Management. International journal of environmental research and public health, 15(1), 80.

https://doi.org/10.3390/ijerph15010080

Horst, J. A., Ellenikiotis, H., & Milgrom, P. L. (2016). UCSF Protocol for Caries Arrest Using Silver Diamine Fluoride: Rationale, Indications and Consent. Journal of the California Dental Association, 44(1), 16–28.

https://www.ncbi.nlm.nih.gov/pmc/articles/PMC4778976/

Oncology Pocket Guide to Oral Health Prevention and Management of Oral Complications, Head and Neck Radiation Therapy, Chemotherapy, Hematopoietic Stem Cell Transplantation. 2009. U.S. Department of Health and Human Services, National Institutes of Health, National Institute of Dental and Craniofacial Researchhttps://www.nidcr.nih.gov/sites/default/files/2017-09/oncology-guide-oral-health.pdf

Oral Complications of Chemotherapy and Head/Neck Radiation. National Cancer Institute.

https://www.cancer.gov/about-cancer/treatment/side-effects/mouth-throat/oral-complications-hp-pdq

.  December 2016.
About the author: 
Kyle Isaacs is an expanded practice dental hygienist (EPDH) at the Benton County Oregon Health Services building providing dental hygiene care. She writes a monthly column for the County newsletter on different oral health topics for a non-dental audience. In the past she has gone to long-term care facilities, schools, and medical offices to provide preventive services, but these outreach mobile clinics have been put on hold during the pandemic. Kyle is also a speaker and can be reached at kjulin@gmail.com
Offers From Our Partners: