Increased Risk for Stroke After Head & Neck Radiation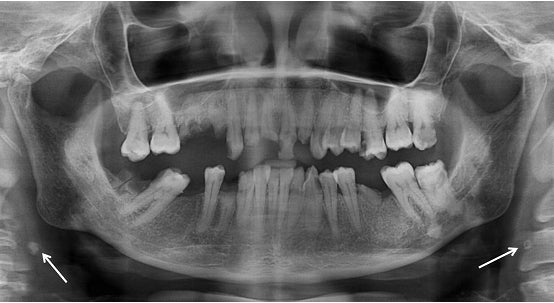 Radiation to the head and neck region can result in many long-term side effects. The role of the dental professional is evolving to recognize these side effects and address them at the earliest stages.
One such side effect is an increased risk for cervical carotid artery atherosclerotic lesions. According to Detection of radiation-accelerated atherosclerosis of the carotid artery by panoramic radiography, A new opportunity for dentists by Arthur H. Friedlander, D.D.S. and Earl G. Freymiller, D.M.D., M.D., "Radiation-induced atherosclerosis is common, with approximately 40 percent of patients developing hemodynamically significant carotid artery plaques within 10 years of having received irradiation. " Panoramic radiographs can be a vital tool to identify these lesions before they can progress to a cerebrovascular accident, also known as a stroke.
Calcified atherosclerotic lesions located in the bifurcation region can be seen on a panorex approximately 1.5 cm to 2.5 cm inferior and posterior to the angle of the mandible. Detection of Carotid Atheromas by Panoramic Radiography by Arthur H. Friedlander, DMD; and Allan G. Farman, BDS, PhD, MBA, DSc states that "lesions appear as nodular radiopaque masses or radiopaque vertical lines at approximately the level of the interspace between the third and fourth cervical vertebrae." Any evidence of such lesions should result in physician referral for further evaluation.
Additional sources:
Long-term effects on carotid intima-media thickness after radiotherapy in patient with nasopharyngeal carcinoma
Image credit: Journal of Clinical and Diagnostic Research, "Carotid Artery Calcification and Sailolith in Partially Edentulous Patient: An Accidental Finding on Panoramic Radiograph"
Offers From Our Partners: