Breaking Barriers - Communication Between Dental and Medical Professionals When Treating the Head and Neck Cancer Survivor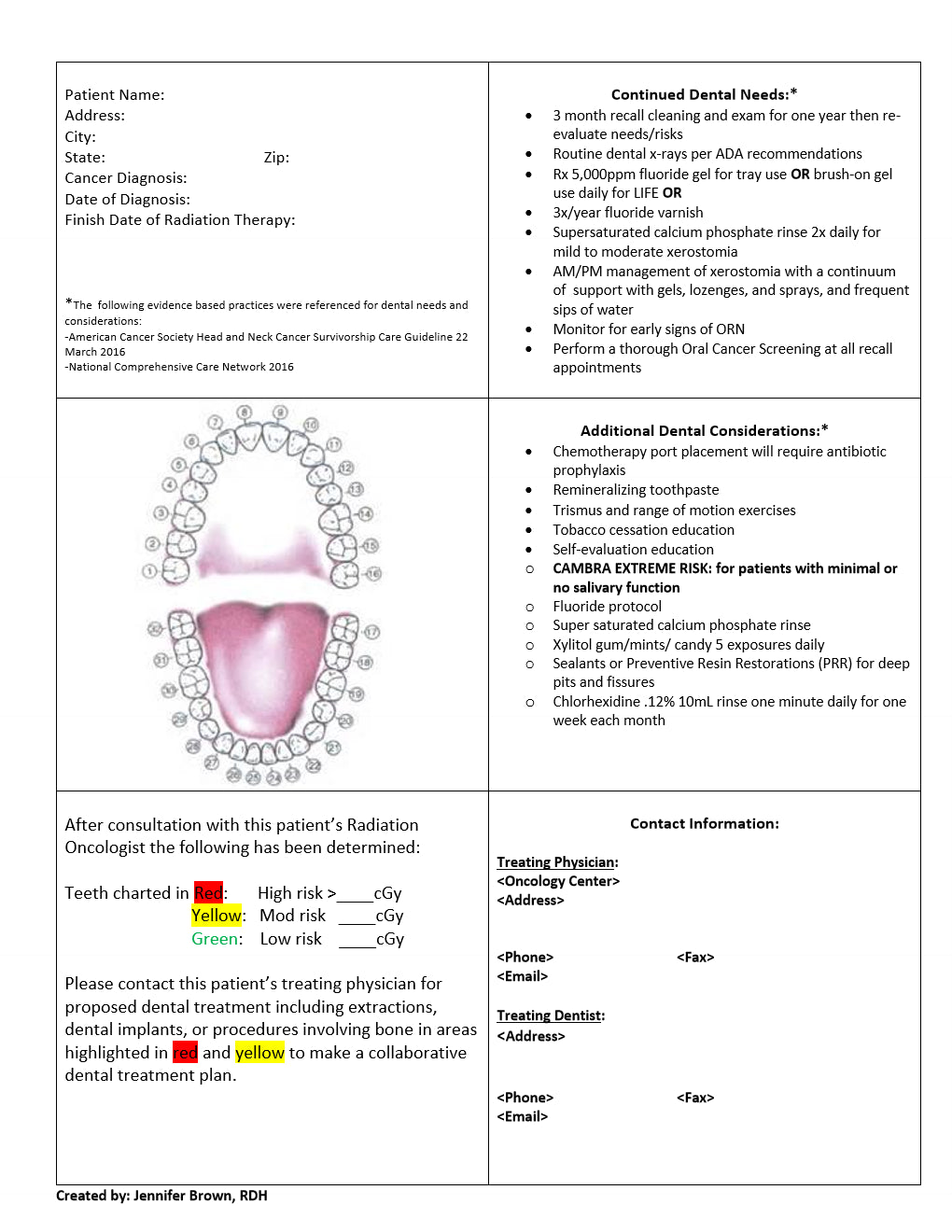 We are thrilled to share these much needed guidelines and easy to use form to assist communication between radiation oncologists and dental professionals and improve patient care. Thank you to Jennifer Brown, RDH, for your contribution and for your unique insight and expertise in this matter.
Breaking Barriers - Communication Between Dental and Medical Professionals When Treating the Head and Neck Cancer Survivor
With the growing epidemic of oral cancers, the appreciation of collaborative care for the head and neck cancer patient may become very personal. There have been many articles published in regards to providing oral care recommendations during treatment and the importance of meticulous follow-up care. However, it is difficult to break the language barrier between the radiation oncologist and the dental office to effectively care for our patients. We are all aware radiation treatment of the head and neck patient involves many acute and latent side effects. The acute side effects are somewhat generalized, tolerated differently by each individual and depend highly on the compliance of nutritional and oral care recommendations. However, latent effects may also depend on the amount of dose received and where the dose is mapped in relation to hard and soft oral tissues (isodose lines). It is my hope that this form may help translate the necessary information so that the treating dentist and treating physician can provide collaborative inter-professional care to ensure lifelong dental health.
I hope that you can picture it in the same sense as a "Pacemaker Wallet Card" or "Joint Replacement Wallet Card" that a patient would carry for life. With the help of the dosimetrist and radiation oncologist, the dose received to each existing tooth and salivary gland can be mapped
onto the dental chart. The treating dentist and radiation oncologist will also need to determine what dose of Centigrey (cGy) may pose high, moderate or minimal risk for developing necrosis (ORN) and/or the risk of radiation carries. This team will also need to decide which precautions would be appropriate if dental treatment in the moderate or high risk areas is required. It is necessary that the dental team provide meticulously written and verbal instructions to their patients and insist on close follow up, as the ultimate goal is to avoid such decisions. Most importantly, it is imperative to develop a professional relationship with all treating physicians, i.e. radiation oncologist, medical oncologist, surgeons and primary care physicians, to offer dental expertise to the multidisciplinary team. It is time to break the barrier between the medical and dental professionals to holistically care for these patients as they have many unique needs.
Is it necessary for the head & neck cancer survivor to follow all of the oral care recommendations listed on the form for the rest of their lives, or is it necessary for only a limited timeframe?
The "Dental Needs" recommendations regarding recall schedule should be followed for the first year. After that, each individual's needs and risks should be re-assessed and addressed. For example, has the patient had full return of salivary function, no changes in periodontal condition, and no new caries? Then perhaps a 6-month recall interval should be considered. However, most head and neck patients have at least minor changes in salivary flow or consistency and daily fluoride is recommended for LIFE. Unfortunately, studies show that patient compliance with at home fluoride falls to 19% after the first year post-treatment! Discuss with your patient frequently not only the importance of fluoride but which avenue they would feel most comfortable with. As for the patients that struggle with hypo-salivation or xerostomia please advise them to use a building block for remineralization, either through a supersaturated calcium phosphate rinse, or remineralizing toothpaste. Use your best judgment, and adjust accordingly to these patient's unique needs.
Is this form designed to use solely after radiation therapy (RT) has been completed or can it also be used for preventive dental care prior to RT with anticipated dosages?
The recommendations are certainly appropriate for patients considering radiation treatment to the head and neck, however actual dose to each tooth would not be available until the patient has started treatment. For instance, if a patient has been sent to your office for dental clearance the anticipated dose will help determine dental treatment needed. Call the Radiation Oncologist to discuss the possibilities for the diagnosis. Ask what long term side-effects they would anticipate due to the treatment field and what teeth they may have concerns about. More than likely they will use terms like upper, lower, molar (which may include pre-molars) and front teeth. It is atypical for tooth numbers to be referenced when they discuss treatment so be ready to talk in their terms for effective communication. It would also be appropriate to start the patient on a fluoride routine or offer a cleaning and fluoride varnish. It has been my experience the cleaner the oral cavity at start of treatment the better. Even a small amount of calculus between #24, 25 can cause irritation as radiation therapy progresses.
You may also offer to prescribe a calcium phosphate rinse for xerostomia. There are initial data that also suggests supersaturated calcium phosphate rinses may help delay the onset and minimize the severity of oral mucositis.
For areas color-coded in yellow or red, are there any types of dental procedures that are safe to perform without first consulting with the treating physician?
Dental procedures that are usually considered safe to proceed without first consulting with the Radiation Oncologist are fillings, crowns, bridges, RCT, routine periodontal therapy, procedures that do not involve trauma or disturb the bone. Also, when considering treatment needs, take into consideration the patient's dental history. Will their oral care routine support a larger filling or would a crown offer better protection against recurrent decay and fracture? Many patients would benefit from a proactive treatment plan approach rather than a watch and see. Take precautions to avoid the risk of future extractions.
How frequently are dental radiographs recommended for the head & neck cancer survivor and is there a concern of adding to their cumulative radiation exposure?
Head and Neck patients should follow ADA recommendations for routine x-rays. Weighing the risk of additional exposure to the benefit of diagnosing decay early supports proceeding with x-rays. Again, diagnosing and treating decay in early stages can help minimize difficult decisions in the future.
What are other tips for the dental professional to provide the most complete care for survivors of head & neck cancers?
Take the time to continually and effectively communicate the importance of oral health and oral care to your patients. Due to improvement in treatment and technology the 5-year survival rate for head and neck patients is improving. There is a higher chance that you will be caring for these patients for many years. It will require a commitment on both sides to help avoid major complications
Last but not least, never hesitate to consult with the Radiation Oncologist or if needed discuss the case with other trusted colleagues that have experience with dental oncology. Many times there are no set guidelines and you must make the most informed decision using patient history, your expertise and the experience of others. Take the time to show other treating physicians your commitment to safely treating these patients. Ask if there is a tumor board you can attend to better understand the process and how your expertise and dental knowledge can benefit the patient and offer great inter-professional collaboration. It is very likely that your presence and unique knowledge is recognized and will be greatly appreciated.
You can view and download the communication form HERE
Jennifer Brown, RDH, BS
Jennifer has been practicing dental hygiene in the beautiful state of Colorado for 15 years. However, she pretty much grew up in a dental office as her mom was a dental assistant and worked the front desk; many science fair projects included root canal therapy and dental decay. For the last 3 years Jennifer has embarked on an exciting new turn in her career working in the hospital setting as an Oncology Dental Hygienist. Working mainly with head and neck cancer patients, she navigates dental needs prior to the start of radiation therapy and educates patients on the importance of oral care during treatment and how their dental needs will change in the future. Head and neck cancer patients are brave souls that face an incredible journey surviving what is considered the most difficult of radiation therapy treatments. Jennifer is honored and proud to play a key role in their support and success.
"Your Smile is your logo, your Personality is your business card, how you leave others Feeling after an experience with you becomes your trademark." – Jay Danzie
Offers From Our Partners: