2019 Guidelines for Photobiomodulation for the Management of Oral Mucositis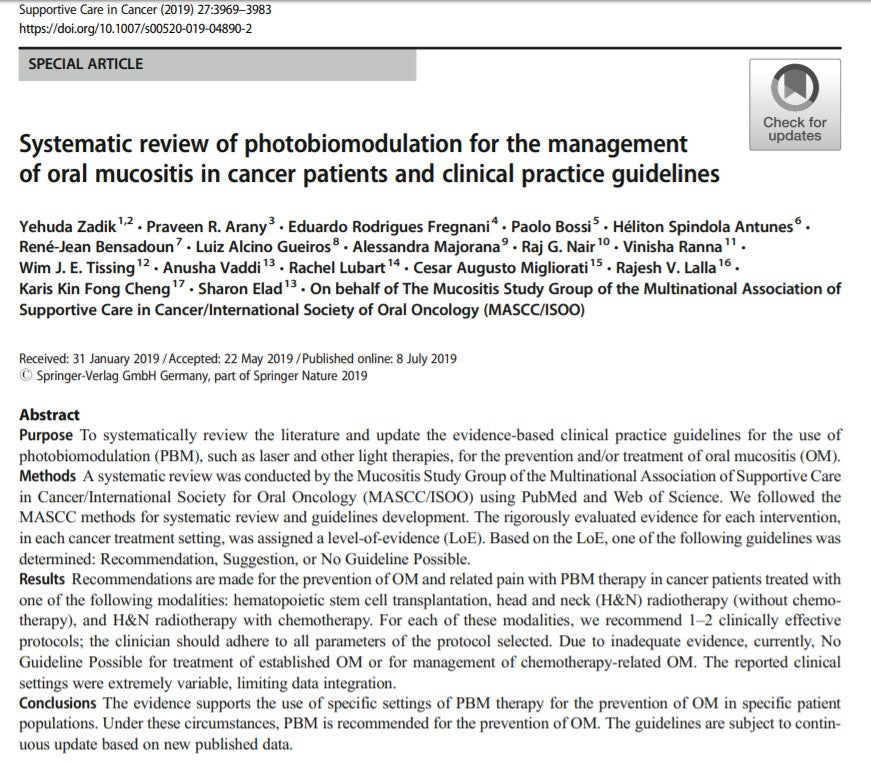 Guidelines were published for the use of photobiomodulation therapy to manage oral mucositis in June of 2019. Photobiomodulation therapy is a technical term for Low Level Laser Therapy (LLLT). It is a light therapy using lasers or light-emitting diodes (LEDs) to improve tissue repair, reduce pain and inflammation. Recommendations were based on a systematic review of 33 research papers found in two scientific databases, PubMed and Web of Science. 
Light therapy was found to not only reduce oral mucositis and it's associated pain without adverse effects, but in some cases, also prevent oral mucositis from occurring when conducted before cancer treatments began. 
The researchers created guidelines for the prevention
 of oral mucositis with hematopoietic stem cell transplants (more commonly known as bone marrow transplants) and in patients with head and neck cancer who were treated with radiation therapy with or without chemotherapy. G
uidelines were unable to be created for the management of oral mucositis in patients treated with chemotherapy alone.
While light therapy is now an additional drug-free option to help manage oral mucositis, according to the authors, "implementing the updated guidelines may be challenged by practical and economic considerations, e.g., cost, facility requirements, trained personnel, and local regulatory requirements".
See the full Supportive Cancer in Cancer
Systematic review of photobiomodulation for the management of oral mucositis in cancer patients and clinical practice guidelines.
Offers From Our Partners: