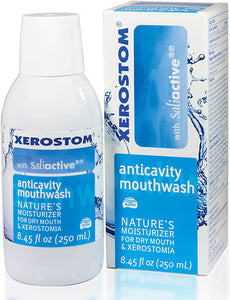 The patented Saliactive ingredients of extra virgin olive oil, betaine, and xylitol have been proven to increase salivary flow up to 200%.

With additional beneficial ingredients such as fluoride, potassium, calcium, natural oils and moisturizers, Xerostom products help with the recovery of natural salivary defenses while protecting enamel and dentin from demineralization and erosion. All Xerostom products are detergent, sugar, and alcohol-free with a neutral pH. Suitable for diabetics. Mild lemon flavor. FDA-compliant. For sale in USA only.

Xerostom Anticavity Mouthwash aids in the prevention of dental caries while quickly relieving symptoms of oral mucositis. Rinse for two minutes after brushing. 8.45 oz. bottle.

Active ingredients: Sodium Fluoride 0.055%. Inactive ingredients: Water, Betaine, Glycerin, Peg-40 Hydrogenated Castor Oil, Propylene Glycol, Xylotol, Arome, Diazolidinyl Urea, Allantoin, Oilve Oil, Sodium Methyl Paraben, Sodium Propyl Paraben, Chrlorophyll, D-Panthenol, Tocopheryl Acetate, Sucralose, Parsley Oil.


Offers From Our Partners:
Bulk quantity products for professional caregivers.
Click Here